We know what it takes to get your message across. For 40 years, we've been crafting long-lasting signage that will have an impact on the world and last for generations!
Our team has experience in every aspect of design from creating beautiful typography or 3D animated logos all way up until installation with high quality materials as well as fast turnaround times, so you don't miss out.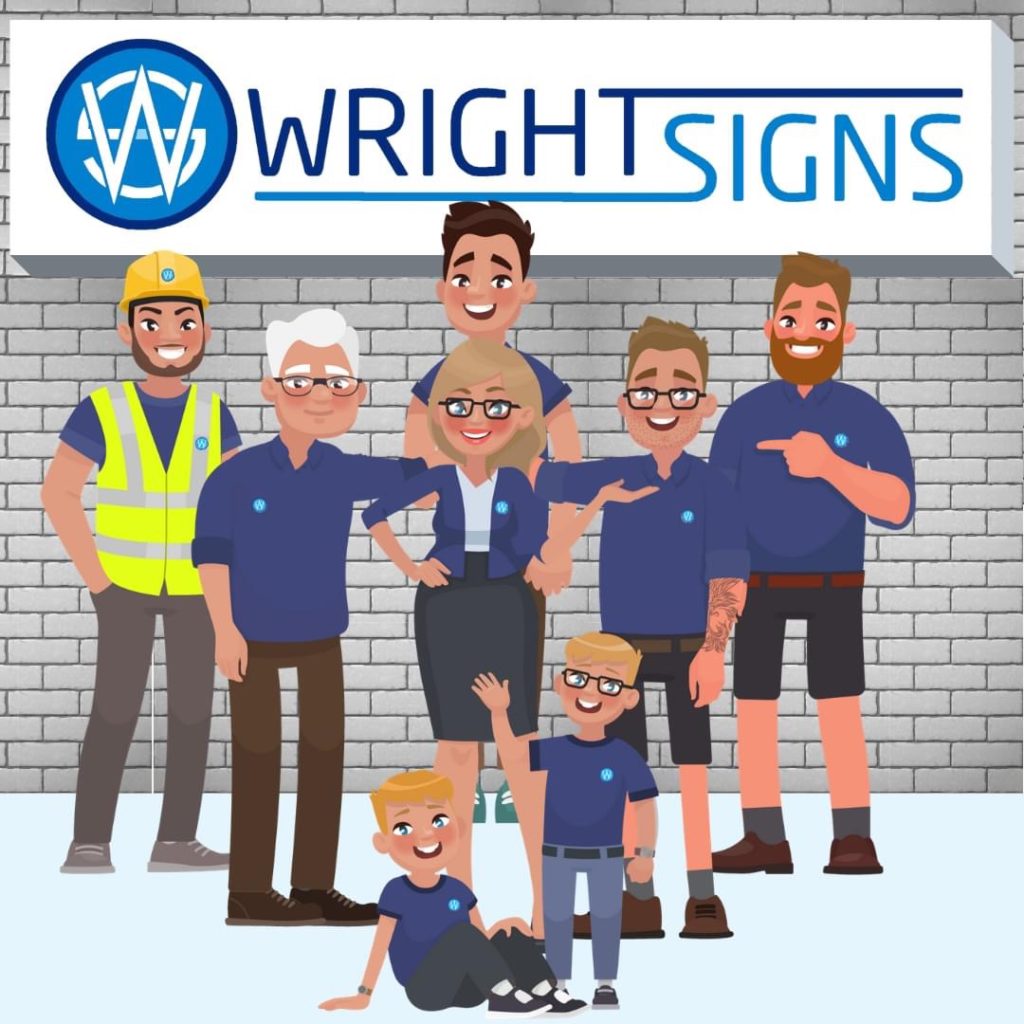 Wright Signs Services have been providing signage for businesses of all industries for 20 years, covering everything from indoor to outdoor signage, vehicle signage, window, and wall graphics, as well as uniform branding and way-finding solutions.
We work with the educational institutions, NHS, Sports and Leisure, Construction and Manufacturing companies UK wide.
Rachel
Fab "gin o'clock sign" it has pride of place above my growing gin collection. Thank you!
Wendy Johnson
Great friendly fast service from email enquiry to finished order. Non customized ordered items were printed and ready for collection the next day. Will definitely order from them again. Thank you
Ian
We have been using Wright Signs now for over 28 years. Always a very reliable, professional company, who deliver on time. They never give you false promises, and will always do their upmost to help you out, when you are in a pickle. I would highly recommend this excellent company, as we have been well looked after for several decades
Casey
Had an urgent request to get some decals done, the van was done in 48hrs from request to on the van. Highly recommend 5* service all round
Dale Wilkinson
Outstanding Job done on our new Horsforth shop! Will absolutely use no one else ever again
Kirsty
I have just had my logo designed and installed onto the back window of my car. All staff were lovely and friendly, the lads who installed it made sure it was perfect. Amazing service from start to finish. Highly recommend!
Kelly
Wright signs are always fast, efficient, reliable and of the highest quality. Excellent customer relations, highly recommended
Anna
A very helpful reliable supplier, deliveries are always on time and will always help out at short notice
Security Company in Leeds
Denise
Wright signs produce our Stainless Steel nameplates, they always produce a first rate job for us on very short timescales. All in all an excellent company to deal with
Engineering Company Bradford
Graham
Wright signs are extremely reliable and invariably we need signage at very short notice, they have always supplied on time and with quality regardless of quantities and cost ordered. I would certainly recommend Wright Signs to anyone
Engineering Company in Leeds
John
We have used Wright signs for a number of years on large and small jobs. They are quick, accommodating and competitive
Kath
We have used Wright Signs regularly as a preferred supplier for over 15 years. Projects and services have been from small one off door signs to completing entire premises, including external/internal requirements. Their service has covered planned work to emergency, short notice orders and in both types of scenarios the end product has been delivered satisfactorily
Yorkshire Ambulance Service
Jack
Wright Signs have supported us with a variety of projects continually providing innovative design solutions, quality products along with a fast & reliable service
Steve
The Wright Signs team offer an outstanding level of support with all requests, and even with the odd unreasonable request on our part, they manage to co-operate. We have always found them professional, reliable and competitively priced and would recommend them without hesitation
Spedding Goldthorpe (Brokers) LTD
Chris
From concept to installation, the service was professional and efficient. We are extremely happy with our signage!
Kerry
Wright Signs have manufactured and delivered nearly 2000 behind the bed boards. Prior to us ordering the boards, Wright Signs were able to produce prototype examples which we could see and feel rather than just photographs of boards from other organizations. We had a very short time frame for the order to manufactured/processed and Wright Signs were very helpful when we needed to make design tweaks for our boards for specialist area
Liza
I've worked in this hospital for 25 years this August and i've never, in all that time, had a job done so quickly. The nice men from the sign company in Leeds have just been to put up my departments new signs. The signs look amazing and the men even cleaned the old blue-tac off the door for me. Thanks again for all your help with this, it's made a big difference to the waiting room and should be much easier for patients to see where to report in now.
Junior Football Amateur League
John
I wanted a poster for our annual Junior Football Presentation night and although quite complex in my opinion as I wanted 4 or 5 different aspects on it, from my rough drawn sketch Claire, Craig and their team designed and delivered it within 24 hours from ordering, with a superb end result. I will definitely be ordering again from this Local Family Run business and spreading the work to other teams at our club. Thank you.
Wendy Johnson
Winston Solicitors have used Wright Signs for quite a few years. They have been helpful (particularly recently!) and their printing is of a high quality and we would recommend
South West Yorkshire Partnership NHS FT
Kathryn
Highly recommended! Excellent, professional, prompt and friendly service. Used them for years
Katherine Faulkner
From wall art, van sign writing and work uniform embroidery I couldn't recommend Wright Sign Services enough. They are professional, trustworthy and have a fast response to anything I require
Hayley
I used Wright Signs for a job at Leeds Trinity University – excellent communication, always happy to help (and make changes when required!). Would highly recommend